Market participants continue to be headlined driven as seen in gold on Friday
Gold investors and traders are reacting strongly to any shift in the Federal Reserve's narrative concerning upcoming interest rate hikes. This was seen on Friday when a single article published by the Wall Street Journal resulted in strong gains for gold. On Friday Mary Daly the president of the San Francisco Federal Reserve Bank said, "I think the time is now to start talking about stepping down – the time is now to start planning for stepping down,".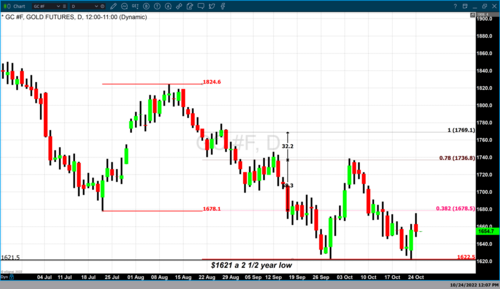 While the consensus amongst investors and economists is that the Federal Reserve will raise rates by 75 basis points at the FOMC meeting in November, we saw a dramatic shift in market sentiment for the December rate hike as seen through the eyes of the CME the FedWatch tool.
On Friday the FedWatch tool predicted that there is a 46.3% probability that the Fed funds rate will be between 450 and 475 basis points by the end of 2022. This greatly differs from last Thursday's prediction which indicated a probability of 75.4 %. Today the FedWatch tool is predicting that there is a 53.7% probability that the Fed's benchmark by year-end will be between 450 and 475 basis points.
What caused the dramatic shift in Fed funds futures contract pricing on Friday was speculation amongst Federal Reserve officials as to whether or not to begin to decrease the size of the rate hike in December.
It is quite plausible that market participants looked closer at statements by Mary Daly who qualified her statements "that slowing down was not the same as stopping rate hikes" and that the Federal Reserve benchmark rate will ultimately rise to "4 ½ or 5%" which is "a very reasonable estimate of where we'll need to go".
Today gold futures pricing is down slightly after trading to its highest value since the beginning of October. Gold futures traded to a high of $1675.50 today before moving lower on the day. As of 5:40 PM EDT, the most active December contract is currently fixed at $1654.10 after factoring in today's decline of $2.20 or 0.13%.
On Friday gold traded to its lowest value this month matching the lows achieved during the last week of September at $1622. However, following the release of the Wall Street Journal article on Friday which highlighted Mary Daly's comments about upcoming rate hikes gold rallied strongly closing at $1656. Today's fractional decline of $2.20 is impressive considering that Friday's gains were based on a single Federal Reserve member's narrative. Earlier in the week two Federal Reserve presidents
Bullard & Kashkari said and confirmed that the Fed can't pause hikes. It seems as though market participants want to react to any Fed statements that are more dovish than the recent extremely strong hawkish statements made earlier. What can be construed from this is that markets are pricing in more the more hawkish scenario of two more 75 point hikes this year.

By Gary Wagner
Contributing to kitco.com
Time to buy Gold and Silver on the dips
Tim Moseley