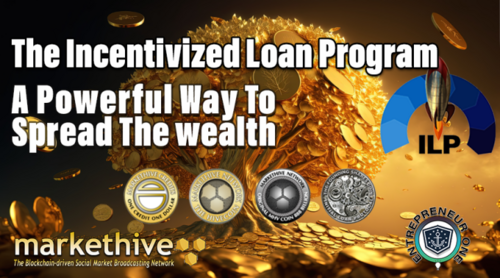 THE INCENTIVIZED LOAN PROGRAM (ILP) is a powerful way to spread wealth.

(Updated)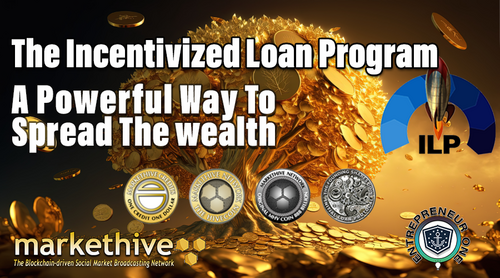 Given the ever-increasing Markethive membership, I've updated and republished this article from three years ago for all our newer members. Markethive's Incentivized Loan Program (ILP), also known as an Initial Loan Procurement, is a valuable tool for distributing wealth. The ILP is essentially a loan that adheres to regulatory standards and complies with the UCC Code. This ensures it can be used in various countries without worrying about fraud or money laundering issues. It's similar to a convertible note, a type of short-term debt financing used for early-stage capital raises. In simple terms, it's like a promissory note or an IOU.
Markethive has developed a revolutionary approach to financing projects through the blockchain, offering an alternative to traditional crowdfunding methods. By leveraging the power of decentralized networks, Markethive's Incentivized Loan Program enables the raising of funds securely and transparently, making it a game-changer for entrepreneurs and innovators. As a pioneer in this space, Markethive is leading the way in decentralized debt crowdfunding, providing a new avenue for businesses to access the capital they need to thrive.
ILP holders have a share in the company's success and receive a portion of the profits in the form of interest, which is 20% of the net revenue paid out monthly, and a final balloon payment at the end of the 20-year note period.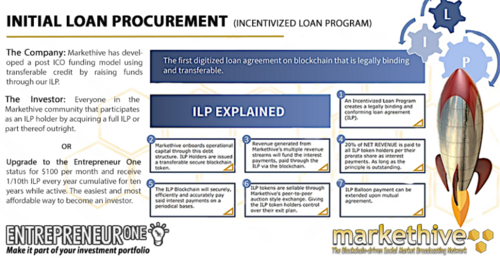 Here is a bullet point breakdown
• The Incentivized Loan Program generates a formally binding and lawful loan arrangement that adheres to the USA UCC code for debt instruments. Since it's a debt instrument, it's exempt from taxation.
• The opportunity is accessible to people globally since lending practices are prevalent in most regions.
• The company can focus on developing tokens with genuine utility and value rather than issuing speculative tokens without practical application.
• Markethive utilizes the debt structure to bring in operational capital, and as a result, ILP holders receive a secure, transferable blockchain token. The total number of ILPs available is capped at 1000, although we are targeted to distribute fewer than that. Each share is equivalent to a single full ILP.
• Markethive's diverse revenue streams will provide the necessary funds for interest payments, distributed through the ILP utilizing blockchain technology and paid out in Hivecoin (HVC) via the recently integrated comprehensive financial hub called the Markethive Wallet. This cryptocurrency can then be exchanged for other cryptos or fiat currencies through various coin exchanges and, ultimately, through Markethive's crypto exchange platform.
• For as long as the principal remains outstanding, 20% of the net revenue is distributed to all ILP token holders in proportion to their share as interest payments. Following this, a lump sum payment is made after 20 years and can be further extended upon agreement between parties.
• The interest payments will be paid using the ILP Blockchain, which ensures their security, efficiency, and accuracy. The blockchain technology behind it makes tampering impossible.
• Holders of ILP tokens will be able to sell their tokens through Markethive's decentralized, peer-to-peer auction-style exchange, allowing them to dictate the terms of their own exit strategy.
• ILPs can be divided into smaller parts, known as fractions, with a minimum denomination of 1/1000th of an ILP. A specialized internal exchange, the ILP Markethive Exchange, is being developed where members can purchase and sell their ILPs or fractions of their ILPs peer-to-peer. This allows members to monetize their ILPs, turning them into cash cows.
• The ILP token is not based on speculation. It's based on performance.
Imminent Growth – Lucrative Outcome
Due to consistent growth indicators from both internal and external sources, ongoing enhancements, and the implementation of integrations that enhance user experience and strengthen our systems' security, we are optimistic about the rapid expansion of our community. Currently, members who upgrade to Entrepreneur One (E1) for $100 monthly are supporting Markethive's efforts to design, build, and implement innovative systems and integrations, and they will be rewarded a thousandfold.
The revenue generated by diverse sources, including the Premium Upgrade (PUP), retail products and services, and the pioneering E1 upgrade, will fund the monthly ILP interest payments. To simplify the calculation and for the sake of this article, let's assume a modest estimate of 5 million members. This allows us to project the following growth…
If 10% of Markethive's 5 million members upgrade to a Loyalty Program at $100 per month, the monthly income would be $5 million. With a 20% net revenue, that's approximately $10 million monthly. When divided by the maximum number of 1000 ILP shares, it translates to a monthly income of $10,000 for each share. For the holders of 1/10th of an ILP, that represents a cool $1000 per month for a subscription payment of $100 per month.
As the company grows, the revenue will reflect that growth for a projected duration of 20 years before the loan becomes due, which is regarded as a balloon payment. Currently, one full ILP is worth $10,000, but as the ILP purchases increase or are allocated through the Entrepreneur One Upgrade, the value of the ILP will continue to grow along with the monthly interest payments.
LinkedIn Statistics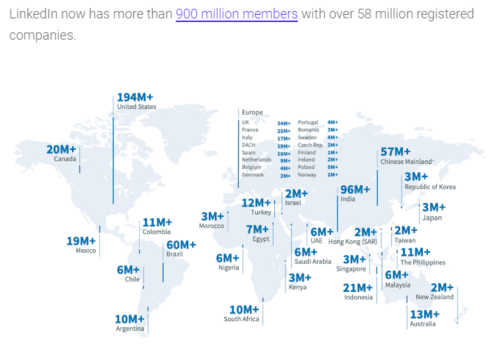 Source: Kinsta.com
LinkedIn is considered one of the closest, most targeted, and most socially networked competitors to Markethive, even though it falls short in services compared with Markethive. LinkedIn's most recent figures suggest it has more than 900 million members with over 58 million registered companies. According to Kinsta.com, in September 2023, LinkedIn's annual revenue was $13.8 billion, reporting that 39% of LinkedIn users had upgraded to their Premium service. LinkedIn's yearly revenue surpassed $15 billion in Q4 2023, reflecting 1 billion members, according to LinkedIn statistics.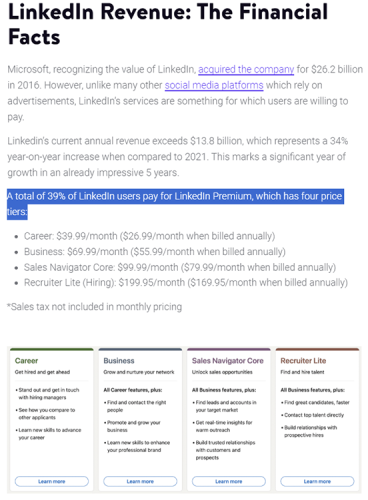 Source: Kinsta.com
Based on LinkedIn's figures and annual revenue of $15 billion, 20% is $3 billion, and the monthly figure would equate to $250 million. At Markethive, that 20% would go to the ILP holders. Based on the maximum total of 1000 ILPs, that correlates to a monthly income of $250,000 per ILP.
LinkedIn's 4-tier Premium plans offer nothing more than greater and deeper access to the data of other members, visitors, searches, and 3+ levels of deep messaging. Their services and, subsequently, annual revenue pale in comparison to what Markethive offers now, not to mention the retail products, services, and integrations in development and imminent release; you can just imagine a potential revenue of 10X that amount, and that is arguably a very conservation projection.
Markethive is determined to distribute its profits to the Markethive community instead of exclusive stakeholders and Microsoft, who acquired LinkedIn for $26 billion in 2016. In response to the changing global economic conditions, Markethive is actively working towards implementing a business model that prioritizes the community. This model allows individuals without significant financial resources to pursue entrepreneurship and access wealth-building opportunities typically available only to prominent venture capitalists.
There's Always Ways To Earn in Markethive
At Markethive, we are dedicated to ensuring that our rank-and-file members have seamless access to ILPs, as we firmly believe in making Markethive a company for all. To further enhance the benefits of being a part of our community, we have the Markethive Token (MHV) paid to members for daily activities via micropayments recorded in the Coin Clip. These features provide our members with long-term wealth and revenue opportunities and create a thriving ecosystem where our coin can be utilized to its full potential.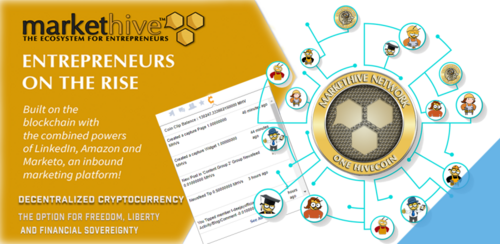 Creating a "Universal Income" for entrepreneurs. Using our state-of-the-art integrated inbound marketing platform, social network, hybrid AI, business services, e-wallet, coin exchange, mining data center, incubator, and blockchain income platforms for success in the crypto-preneurial and entrepreneurial markets.
View the white paper to clearly understand the Markethive vision and mission and the statistics and milestones achieved. White Paper https://markethive.net/Markethive.Whitepaper.V4.pdf
So, how do you get your hands on your share of an ILP? You can choose from the following two ways…
You can purchase fractions of an ILP with the Markethive Token (MHV), starting with 20,000 MHV for 0.01 ILP, through to one full ILP for one million MHV.

You can wait for the ILP exchange to be completed and then buy ILPs or shares from other exchange members.

You can purchase an ILP or partial shares from us (Markethive) directly. We sell whole shares and fractions as small as 1/10th for $1000.
Conclusion
In conclusion, Markethive's ascension, community participation, and status as a dynamic social network with increasing daily engagement and interaction on the platform indicate a promising future. As a comprehensive social media platform, Markethive offers indispensable inbound marketing tools for business growth and a thriving cryptocurrency ecosystem, ensuring a steady income for its members. With a successful system and the Hivecoin launch on the horizon, Markethive is set for long-term expansion and revolutionizing how we interact and conduct business online.
Markethive is in the final stages of BETA, offering a unique opportunity for individuals to establish themselves as early adopters. This cutting-edge platform is the future of social market broadcasting, providing a comprehensive system for long-term success, financial independence, and a sense of community. By leveraging the power of Web 3.0 technology, Markethive is revolutionizing how we approach social media, inbound marketing, and eCommerce. Take advantage of the chance to secure your place in this innovative ecosystem designed specifically for entrepreneurs.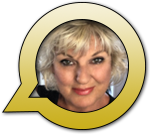 Editor and Chief Markethive:
Deb Williams
. (Australia) I thrive on progress and champion freedom of speech. I embrace "Change" with a passion, and my purpose in life is to enlighten people to accept and move forward with enthusiasm. Find me at my
Markethive Profile Page
| My
Twitter Account
| and my
LinkedIn Profile.
Tim Moseley