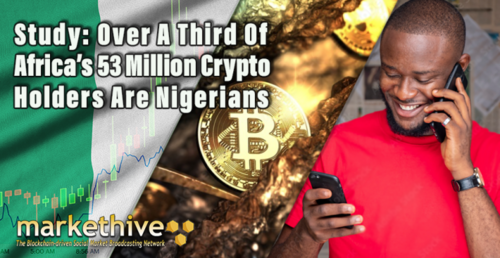 Study Shows More Than a Third of Africa's 53 Million Cryptocurrency Holders Are Nigerians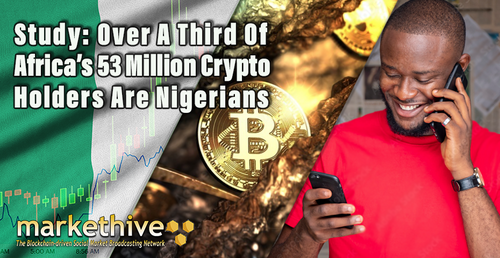 Cryptocurrency and blockchain are hot topics in the news these days. Due to its growth and adoption, many people have become interested in digital money worldwide. However, Africa is making tremendous progress when it comes to cryptocurrency adoption. Cryptocurrency is transforming African economies through payments, international trade, and government functions. As countries look to embrace this new technology, Africa is poised to take advantage of its many benefits.
Several African countries have embraced cryptocurrency and blockchain technology by regulating crypto trading or creating state-backed crypto. For example, Kenya's Central Bank (CBK) classified crypto as a virtual currency and regulated its trade. South Africa also has plans to regulate crypto trading when it issued an amendment to its financial services regulatory framework this year. Uganda introduced a regulatory framework for blockchain development and Initial Coin Offerings (ICOs), which has led to increased investor interest in the country. Several other African countries are looking into similar strategies, further expanding the continent's cryptocurrency adoption rate.
Businesses in Africa typically use local bank accounts to conduct business with other nations. This allows African companies to make international payments using locally stored funds instead of transferring funds from abroad using foreign exchange dealers (FEDs). All thanks to the introduction of cryptocurrency. Many businesses across Africa now use cryptocurrency for international payments since it's cheaper than FEDs and doesn't require additional paperwork or conversions. This frees up time for other tasks while increasing profit margins simultaneously. The adoption of this technological development makes it perfect for casual businesses without extensive staff resources.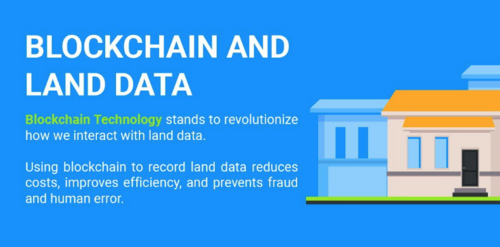 Image Source: https://mediciland.com/
African countries are also looking into blockchain technology to increase government transparency and accountability across the continent. Blockchain is secure and can transfer data quickly without any loss of accuracy like traditional computer systems do. This makes it ideal for keeping records such as land registries safe and easily accessible by all users on a decentralized platform like the Internet instead of an authoritative centralized system like governments have traditionally used.
Some African countries are already implementing this strategy, such as Zambia, which has created several pilot programs with international tech partners. These programs will bring government services online for the first time by allowing citizens access to their records online. Cryptocurrency has revolutionized African economies by making daily transactions cheaper, easier, and more secure than before, something any business would love!
Applying existing technology effectively can improve citizens' lives in developing areas far faster than simply throwing money at problems could ever achieve. Therefore, while developed countries wait to "catch up" with digital currency innovation, things appear to be changing in Africa, and Nigeria is leading the way and will be leaps ahead!
Nigeria Championing Crypto Adoption in Africa
According to the latest crypto-proprietary data from Triple-A, the African continent now has an estimated 53 million cryptocurrency holders. This is about 16.5% of the estimated global total of 320 million people. Interestingly, of all cryptocurrency holders in Africa, Nigerians account for more than a third of the total, or just over 22 million.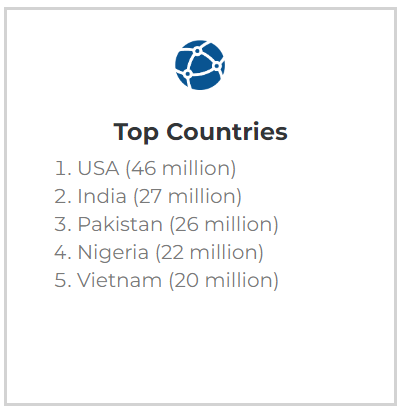 Image source: TripleA.io
Nigeria has the fourth largest cryptocurrency holder globally, while the United States is the highest-ranked country with 46 million cryptocurrency holders. According to statistics, India and Pakistan are close behind, with 27 million and 26 million crypto owners, respectively.
While Nigeria ranks fourth in cryptocurrency ownership, the country is still considered the world leader in the number of people who Googled the keywords 'bitcoin' and 'cryptocurrency.' These findings are supported by the report of another study. The study shows that Nigeria is one of the most crypto-obsessed countries in the African continent.
Meanwhile, data from Triple-A shows that South Africa has the second largest cryptocurrency holder population in Africa at 7.7 million. This figure is equivalent to about 12.5% ​​of South Africa's population. Kenya has the third largest cryptocurrency owner in Africa, with 6.1 million or 11.6% of the country's population.
The top 5 countries in Africa with the most cryptocurrency owners are Egypt and Tanzania, with 2.37 million and 2.32 million holders, respectively. Seychelles is the lowest-ranked African country, with an estimated 1,257 cryptocurrency owners.
Bottom Line
The future belongs to those who will seize it today. No doubt, African countries like Nigeria are doing just that. By embracing cryptocurrencies and blockchain technology early on, the country has created an optimal environment for businesses and investors alike. Boosting their local economies significantly via increased investment and revenue generation opportunities through the adoption of innovative technologies such as these is something they have been doing at a rapid pace and with much success so far!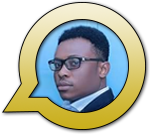 About:
Prince Chinwendu
. (
Nigeria
) Rapid and sustainable human growth is my passion, and getting a life-changing opportunity into the hands of people is my calling. Empowering entrepreneurs provides me with enormous gratification. Find me at my
Markethive Profile Page
| My
Twitter Account
| and my
LinkedIn Profile.
Tim Moseley