Gold bears remain in control as short squeeze runs out of momentum
Gold bears remain firmly in control of the market as prices have been unable to hold gains above $1,750 and a short squeeze on hedge funds has proved to be short-lived.
According to market analysts, hedge funds remain pessimistic about gold as markets shift expectations that the Federal Reserve will quickly pivot from its current aggressive monetary policy strategy.
Further rate hikes through the rest of the year and in the first quarter of 2023 continue to support the U.S. dollar at a 20-year high and bond yields above 3%, two significant headwinds for the precious metal.
According to the CME FedWatch Tool, markets see a 74% chance that the Federal Reserve will raise interest rates by another 75 basis points later this month.
Commodity analysts at TD Securities noted that gold's dismal performance through the summer indicates that the market has priced in higher interest rates; however, they added that the next wave of selling will be driven by expectations that a much-anticipated pivot is further away than initially thought.
"While gold prices may now have accurately captured the expected level of interest rates, they are not reflecting the implications of a sustained period of restrictive policy. Further, we see odds of a major capitulation event growing with every tick lower in gold prices," the analysts said in a note. "Gold markets still feature an extremely concentrated and bloated position held by a small number of family offices and proprietary trading shops, which are increasingly at risk as prices approach their pandemic-era entry levels."
The CFTC disaggregated Commitments of Traders report for the week ending Aug. 30 showed money managers decreased their speculative gross long positions in Comex gold futures by 4,089 contracts to 91,761. At the same time, short positions rose by 6,234 contracts to 79,973.
Gold's net length now stands at 11,788 contracts, down 46% from the previous week. During the survey period, gold prices briefly rose above $1,750 an ounce but could not hold those gains.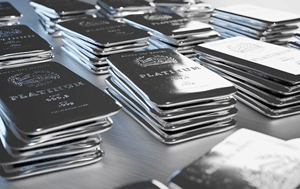 Platinum remains well supported even as surplus grows to 974k ounces – WPIC
Since then, gold prices have been stuck near support just above $1,700 an ounce.
Commodity analysts at Société Générale noted that the entire precious metals complex saw bearish flows of $2.5 billion.
"These flows came as Jerome Powell delivered his Jackson Hole speech. As the US Fed chair reiterated that the focus of the central bank is to tame inflation, precious metal prices fell, as higher interest rates erode the appeal of the non-interest-generating, safe-asset, bullion," the analysts.
As bearish as the sentiment is in the gold market, it is being outpaced by silver. Hedge funds made significant bearish bets in silver, according to the latest trade data.
The disaggregated report showed that money-managed speculative gross long positions in Comex silver futures fell by 564 contracts to 31,139. At the same time, short positions rose by 4,643 Analysts note that gross long are at their lowest point since Nov. 18, demonstrating how little contracts to 52,170.
bullish interest there is in the precious metal.
Silver's positioning remains net short by 21,031 contracts, up nearly 33%. During the survey period, silver prices dropped below $19.00 an ounce.
The sentiment in the silver market has continued to sour as prices have dropped below $18 an ounce.
Some analysts have said that growing recession fears continue to weigh on silver prices as 60% of demand comes from industrial uses.
Recession fears can also be seen in the copper market as hedge funds liquidate their bullish bets.
Copper's disaggregated report showed money-managed speculative gross long positions in Comex high-grade copper futures fell by 3,126 contracts to 37,617. At the same time, short positions rose by only 63 contracts to 46,284.
Positioning in the copper market remains solidly bearish with a new net short position of 8,667 contracts. During the survey period, copper prices hovered near support around $3.60 an ounce.
By Neils Christensen
For Kitco News
Time to buy Gold and Silver on the dips
Tim Moseley