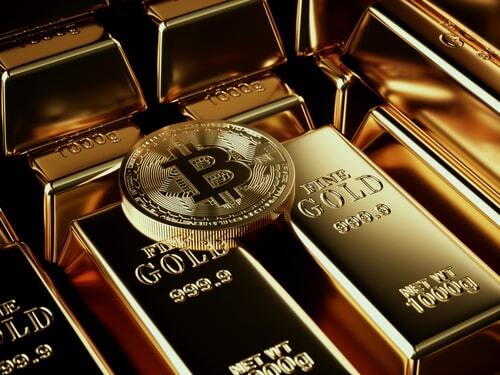 Gold is great, but it's not Bitcoin – Edward Snowden talks independent money
Gold is Bitcoin without the Internet option, said Edward Snowden, whistleblower and president of the Freedom of the Press Foundation. He also sees the financialization hype dividing the crypto space, advising people to use cryptocurrencies instead of investing in them.
At the Consensus 2022 conference in Austin, Snowden stressed the need for an independent form of finance, which is how gold came up.
"Gold is great, but gold is not portable. Gold is not transmissible beyond borders at the tap of a button. But Bitcoin and crypto, more broadly, are. That is an astonishing thing. It gives us an indication of the power of how the world can be changed," he said virtually on Saturday. "We have too many currencies that are too unreliable. And that's what crypto beginning to address. We are seeing the transformation of cryptocurrencies moving to cryptographic monetary instruments."
The problem crypto is attempting to solve deals with the existing system being fundamentally unfair, Snowden said. "Look at the economy. There is an increasing concentration of recourses in fewer hands. We see this financialization creeping into the crypto ecosystem."
Snowden criticized the crypto industry for letting the financial aspect drive evolution of the space. "Everyone in crypto is fragmenting into tribes because of the financialization of cryptocurrency, they are more about making money," he said.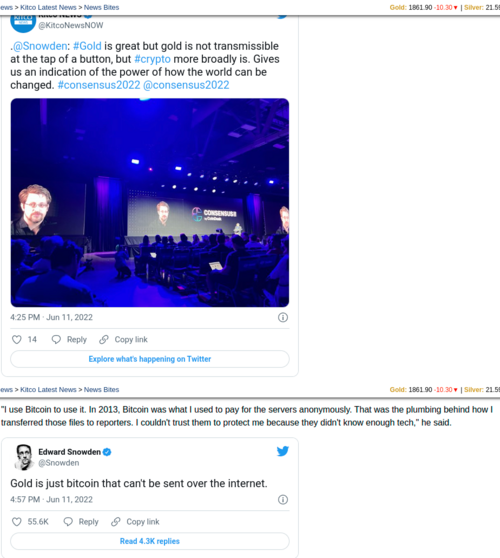 Snowden's fear when it comes to privacy is identity and money being used against the population. "I am worried about the world in which identity is used against us; our money is used against us. We need free money – in the independence sense."
Snowden once again reiterated that Bitcoin is not private, and that is a failure as an electronic cash system. In the past, Snowden has cited his concerns with this, saying that Bitcoin has a public ledger, not an anonymous ledger.
By Anna Golubova
For Kitco News
Time to buy Gold and Silver on the dips
Tim Moseley