Tornado Cash Whirlwind: Fed Prohibits U.S. Citizens From Using the Service.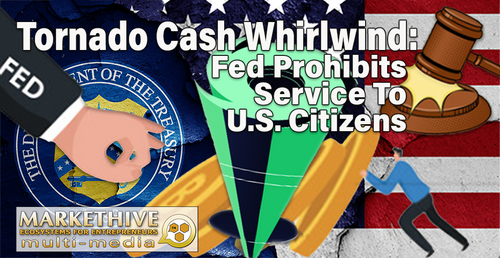 Cryptocurrency mixing service Tornado Cash has been blacklisted in the U.S. Now, this has created a whirlwind in the crypto community. It is essential to understand exactly what's happening here as it will have important implications for the industry. However, this is not the first time the U.S. government has imposed a ban on crypto-related companies.
Tornado Cash's blacklisting sparks outrage in the crypto community as the U.S. Treasury sanctions the Ethereum hybrid protocol. The developers working on Tornado Cash and the log itself have been removed from the popular code hosting site Github. Vitalik Buterin has publicly admitted that he used the protocol in good faith, and his supporters have condemned censorship as unconstitutional. At the same time, someone started sending illicit Ethereum from Tornado Cash to a range of celebrities, from Jimmy Fallon to Jake Paul.
Tornado Cash is a firm that allows customers to conceal the origin of their cryptocurrency transactions. The U.S. Treasury Department has banned all Americans from using the website because it played a crucial role in laundering billions of dollars worth of cryptocurrencies. It is one of the main tools hackers use, most notably the $625 million breach of Axie Infinity's Ronin network by North Korea's Lazarus Group in March.
Before I go further, let's dive into the ecosystem of Tornado Cash to understand what the network is about and its functionalities.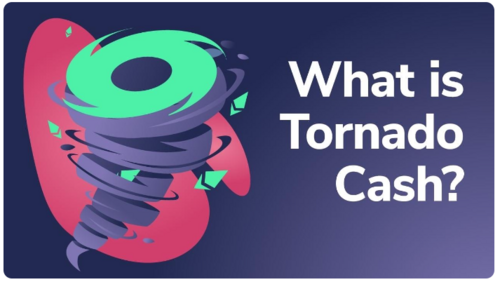 Image source: Moralis Academy
What is Tornado Cash?
The blockchain transactions of Ethereum and Bitcoin, the two largest cryptocurrencies in the world today, are fully public and visible. Thanks to this high level of transparency, almost anyone can use their public address to track users' spending behavior. If they wish to disclose their transaction history, they only need user data for a single transaction that occurred.
Of course, the anonymous nature of public addresses doesn't necessarily mean they know users' personal information. Still, this leaves a lot to be desired for more privacy-conscious crypto users. Various privacy-conscious solutions and protocols have been developed to address the "problem" of transparent pseudonyms, but arguably none have been more successful than transaction mixers.
Transaction mixers essentially pool the funds of multiple users with their transactions: before each transaction reaches its intended destination, it is "shuffled." Once this shuffling process happens, it's complicated for anyone to track whose money went where and how much.
In practical use of transaction mixers, the developed protocol increases transaction anonymity by sending numerous random transactions across multiple addresses. However, these transactions can still be tracked in the public ledger, so this is not an entirely successful solution.
Tornado Cash aims to solve the privacy issues of transparent blockchains through private transactions. A fully decentralized, custody-free protocol increases transaction privacy by breaking the chain connection between sender and receiver addresses. To improve privacy, Tornado Cash uses smart contracts to accept ETH and other tokens from one address and allow them to be withdrawn at another.
These smart contracts work as a package, mixing all the deposited funds and generating a private key to prove that you have completed the deposit process. The sender can then use this private key to withdraw the deposited funds to any address at their chosen time. Tornado Cash has grown in popularity due to the rise of cryptocurrency events. It has also become a place to store stolen funds and a haven for many hackers.
Feds Blacklist Tornado Cash
The U.S. Treasury has added Ethereum mixing service to its list of Specially Designated Nationals. In a Press Release published by the U.S. Department of the Treasury, the body added the Tornado Cash website and a long list of Ethereum addresses to its list of Specially Designated Nationals and banned U.S. citizens from using the tool or doing business with the firm.
The announcement added that the state-backed North Korean hacking group Lazarus Group used Tornado Cash to launder more than $96 million after it hacked Harmony Bridge in June. It also said criminals used Tornado Cash to launder money, with $7.8 million stolen in the Nomad Bridge hack.
The Treasury Department's announcement lists some Ethereum addresses related to the Tornado Cash community, including addresses where people can donate money. According to Nansen researcher Andrew Thurman, the list of blocked addresses includes addresses that received funds from Gitcoin, an Ethereum-based platform used to fund open-source projects.
The Treasury Department said the measure was taken because criminals used Tornado Cash to launder money. In April, Tornado Cash said it used a tool from blockchain tracking firm Chainalysis to block U.S. government-approved addresses from using privacy apps. This is not good enough for the U.S. authorities. Brian E. Nelson, Treasury Undersecretary for Terrorism and Financial Intelligence, added:
"Despite public assurances otherwise, Tornado Cash has repeatedly failed to impose effective controls designed to stop it from laundering funds for malicious cyber actors on a regular basis and without basic measures to address its risks."
Ethereum is the network behind the second-largest cryptocurrency by market capitalization, with thousands of tokens running on its blockchain. The native token ETH is trading at just under $1,897 and has a market cap of over $219 billion at the time of this writing.
As a result of this ban, all U.S. individuals and entities are prohibited from interacting with Tornado Cash or any Ethereum wallet addresses associated with the protocol. Anyone who does so faces criminal penalties.
Tornado Cash announced in July that it had fully open-sourced its user interface code as part of its goal of complete decentralization and transparency. Mixer's website includes a compliance tool that allows users to view the source of each transaction.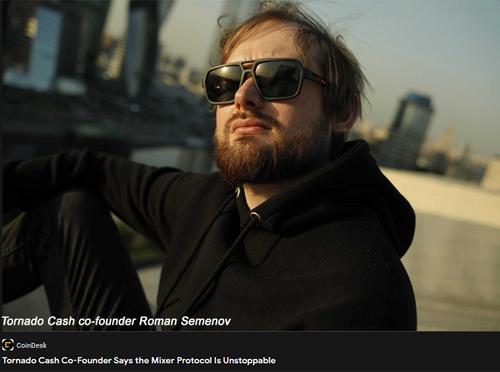 Image source: Coindesk
Sanctions may not prevent the operation of Tornado Cash itself. Co-founder Roman Semenov explained that the privacy service is designed to work without central control. When he and his team write and release code, the Decentralized Autonomous Organization (DAO) must approve any changes.
He told CoinDesk:
"If the DAO doesn't like what we are doing, then we will be forced to change our approach, and we cannot do it in a way that would satisfy the DAO's demands or expectations… The DAO has no way of forcing us to make those changes because our code base runs on a decentralized network where we don't have to talk to anyone else or ask for permission."
Is the U.S. Government in a Crypto War?
Given the ensuing avalanche of blacklists, does that mean Tornado Cash will only be used by criminals to launder money? Due to the transparency inherent in the blockchain, Tornado Cash offers many other less "illegal" use cases that are common when using traditional fiat currencies.
Recently, defenders of Tornado Cash have launched their offensive against the decision in various ways. First, they drew attention to a glaring logical flaw in the decision: anyone interacting with the Tornado Cash contract was illegal. Individual users cannot reject incoming transactions. Small amounts of cryptocurrency have been sent to well-known public wallet addresses – including those associated with Jimmy Fallon and Shaquille O'Neal – a concern that challenges the Treasury to take action to seize the entire Community.
Congress is deliberating a measure that permits the U.S. Treasury broad authority to prohibit or freeze certain digital assets, particularly if they relate to foreign banking institutions, transactions or if one or more types of accounts are of primary money laundering concern.
But the decision has drawn backlash from many in the crypto community, who see it as a government offense that runs counter to its core values ​​of privacy and autonomy. Crypto attorney Collins Belton tweeted:
"arguably the most significant legal action that has occurred in crypto" and warned that it could produce "absolutely gargantuan ripple effects."
However, this action also suggests that OFAC sanctions, which are intended to more broadly push the introduction of cryptocurrencies into the world's financial system as a way to make payments without going through a trusted third-party financial institution should ultimately bypass it.
A bigger fight may be on the horizon: some prominent crypto lawyers have already begun to float the idea of ​​challenging the decision on constitutional grounds. "Banning software publication is banning speech," said Peter Van Valkenburgh, director of research at Coin Center, at a cryptocurrency conference in Las Vegas.
He also said:
"Even laws that unreasonably chill speech are constitutionally suspect and can be challenged even before enforcement."
The sanctions were particularly notable because they were placed not on a person or particular digital wallet address but on the use of a smart contract protocol, which in the most basic form is just information. The precedent set by these actions is not favorable for open source software development in the sector.
Bottom Line
The Feds' actions shocked the crypto community just as it was starting to relax and enjoy a summer rally led by Ethereum and the promise of its coming upgrade, The Merge.
The news that the U.S. Treasury Department has banned all Americans from using Tornado Cash crypto-mixing service or any Ethereum wallet addresses tied to the protocol after North Korean hackers allegedly used it to launder stolen crypto funds has once again heightened doubts on the stability of the whole sector.
This news highlights the cryptocurrency market's fragility and the regulators' ability to crack down on service providers for various reasons, particularly national security. While general market conditions appear to be slightly improving, despite contrasting economic data, this news casts a shadow over the cryptocurrency market. It may discourage further investments from people fearing their coin may be the next one to be targeted.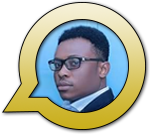 About:
Prince Chinwendu
. (
Nigeria
) Rapid and sustainable human growth is my passion, and getting a life-changing opportunity into the hands of people is my calling. Empowering entrepreneurs provides me with enormous gratification. Find me at my
Markethive Profile Page
| My
Twitter Account
| and my
LinkedIn Profile.
Tim Moseley