Gold's year-end target is $2,050 and here's why 17% price surge still possible – Wells Fargo
The strong U.S. dollar has been hurting gold's price, dragging the precious metal down to 8.5-month lows as it steals its safe-haven appeal. But this is not a game-changer for gold, which can still end the year above $2,000 an ounce, according to Wells Fargo.
The U.S. dollar index rose to another 20-year high Tuesday, while the U.S. 10-year Treasury yield was at 2.921%. August gold futures were flat on the day, last trading at $1,731.60 an ounce after dropping below $1,725 overnight.
"The U.S. dollar has risen 12% since the start of the year. Almost half of that gain has come in the last month. Such big moves are quite rare, but when they do happen, commodity prices typically suffer. The reason is that most commodities are priced in U.S. dollars," Wells Fargo's real asset strategy head John LaForge said on Monday.
The broader commodities index has also suffered due to higher U.S. dollar and rising recession fears, hurting the demand outlook for industrial metals.
As the U.S. dollar gains, emerging market currencies drop, giving these countries less buying power.
"This loss of buying power can often negatively influence commodity demand and commodity prices," added LaForge. "Considering the strength in the U.S. dollar over the past month, it is not surprising that most commodity prices have been falling, gold especially."
Gold retreated 6% in June, primarily because of the U.S. dollar strength. The precious metal is one of the most sensitive commodities to the U.S. dollar price moves, according to LaForge.
Going forward, Wells Fargo is not expecting another significant move higher by the greenback, seeing it near its peak. However, for gold to move higher, it must create its own momentum.
LaForge's year-end gold price target is still at $2,050 an ounce, which he sees as reasonably achievable due to the recession narrative. He added that he would review his year-end targets soon if there is no movement.
"Gold needs its own surge of sorts — about 17% now — to hit our 2022 year-end target of $2,050 per ounce. For now, our year-end 2022 target remains unchanged, as 17% is doable. With recession around the corner, and gold being quite cheap versus most other commodities, investors may begin to buy. That said, we understand that time is running out, so we are reviewing our targets," he said.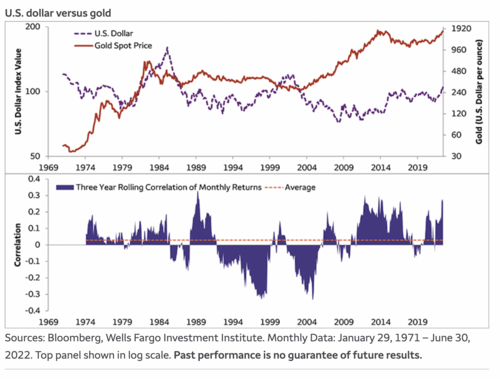 By Anna Golubova
For Kitco News
Time to buy Gold and Silver on the dips
Tim Moseley