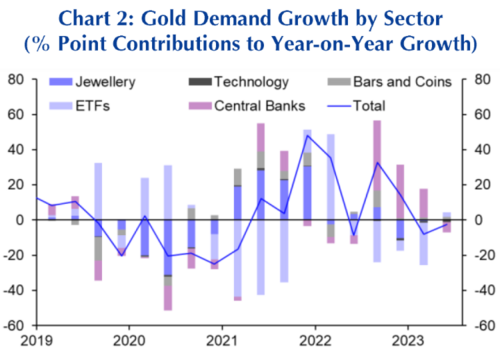 Gold will fall to $1800 by year-end as inflation eases while the U.S. economy grows – Capital Economics
Gold is expected to fall to $1,800 per ounce by the end of the year as the US economy continues to grow and inflation pressures ease, according to analysts at Capital Economics.
"Since rising to around $2,000 per ounce on safe-haven demand (due to concerns about the stability of banks in the US and Europe) in March-May this year, the price of gold has fallen," the analysts said in a recent report. "According to the World Gold Council, global demand for gold fell by about 5% y/y in the first half of this year, mostly due to lower investor demand via exchange traded funds," while the gold supply increased slightly.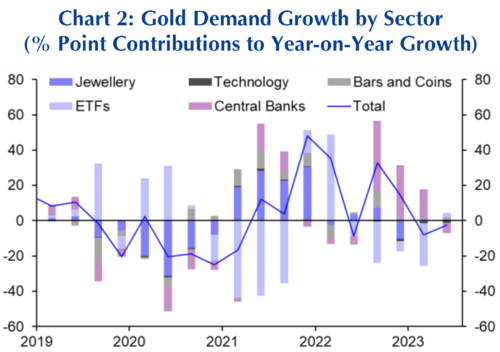 Capital Economics is forecasting more demand declines for the precious metal, "owing to an unwinding of investor demand for gold as a hedge against a severe economic downturn and high inflation," they said. "This is because we expect the US economy to contract only marginally in the fourth quarter, before recovering next year." They're also forecasting that U.S. inflation will drop closer to the Federal Reserve's 2% target by the middle of 2024.
"Admittedly, our US economic outlook is consistent with investor interest rate expectations falling," they wrote. "However, we think that the downward pressure on investment demand from a 'soft landing' in the US will more than offset any upward pressure stemming from lower interest rate expectations."
The analysts noted that gold prices have been "remarkably resilient" since the start of 2022 even as long-term real interest rates have risen sharply. "We suspect that one reason for this is that investors, after building up their ETF holdings of gold to record levels during the pandemic, were reluctant to reduce them when interest rates rose.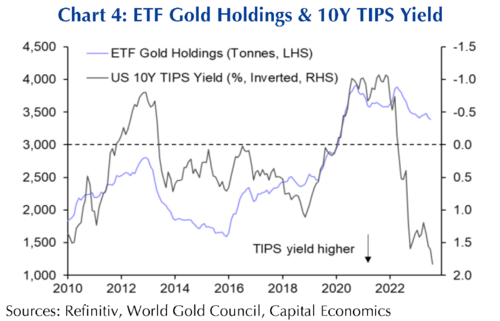 "This makes sense given that there has been a lot of uncertainty surrounding the economic outlook," they said.
They also expect that the combination of high gold prices and the weakness of the Chinese and Indian currencies in U.S. dollar terms will continue to weigh on gold demand for jewelry through the second half of this year after it fell by 1% year-over-year in H1.
"Finally, the historically high gold price should continue to incentivise supply, too," they said. "So, overall, we forecast that the gold price will fall from around $1,918/0z today to $1,800/0z by year-end."
By
Ernest Hoffman
For Kitco News
Tim Moseley