June headline inflation to exceed 8.6%, the annual inflation rate in May
Economists, analysts, and market participants are laser-focused on the Labor Department's CPI (Consumer Price Index) report for June which will be released on Wednesday, July 13. The advanced forecasts released have a common theme or consensus and that is that inflation will continue to run exceedingly hot. Expectations are that headline inflation which includes changes in food and energy costs rose 1.4% compared to the previous month and come in at 8.7% YoY.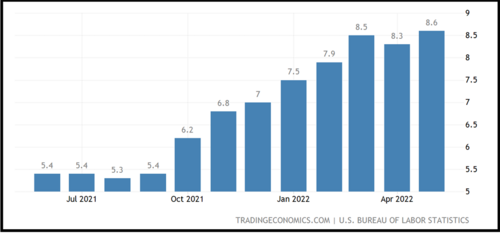 "The strong price increase of this year accelerated further in June 2022 and is expected to have climbed to 8.7 %. This is shown by an advanced estimate of Statistics Austria. This means that the inflation rate has risen to its highest level since September 1975. In the meantime, inflation has picked up speed in almost all areas. In addition to recent increases in fuel and heating oil prices, we also see significant increases in restaurant and food prices", according to Statistics Austria Director-General Tobias Thomas.
U.S. News today reported, "On Wednesday, the Labor Department will report the consumer price index for June, with forecasts that it will top the 8.6% rate for annual inflation recorded in May. A run-up in energy prices last month that has since abated is likely to make for an ugly headline number."
CNBC also reported, "The June consumer price index on Wednesday is expected to show headline inflation, including food and energy, rising above May's 8.6% level."
The consensus among different new services is overwhelmingly anticipating that inflation will continue to grow. The CPI report on Wednesday coupled with last week's jobs report will almost certainly result in another aggressive rate hike of 75 basis points at the July FOMC meeting which will convene at the end of this month.
The overwhelming majority of economists and analysts are anticipating that the Federal Reserve will announce and enact the fourth rate hike this year with consecutive interest rate hikes that began in March.
The Federal Reserve raised interest rates for the first time since 2018 in March. Before the first-rate hike, the fed funds rate was at ¼%. The Fed raised interest rates by 25 basis points at the March FOMC meeting, 50 basis points in May, and 75 basis points in June. It is now expected that they will raise interest rates by 75 basis points in July. The July FOMC meeting will begin on the 26th and conclude on the 27th of this month.
This matches the probability forecast by CME's FedWatch tool, this probability gauge is indicating that there is a 93% probability that the Federal Reserve will raise rates once again by 75 basis points this month.
The net result of the current inflation outlook has pressured U.S. equities lower, taking the U.S. dollar index higher and continuing to pressure gold prices lower on the first trading day of this week.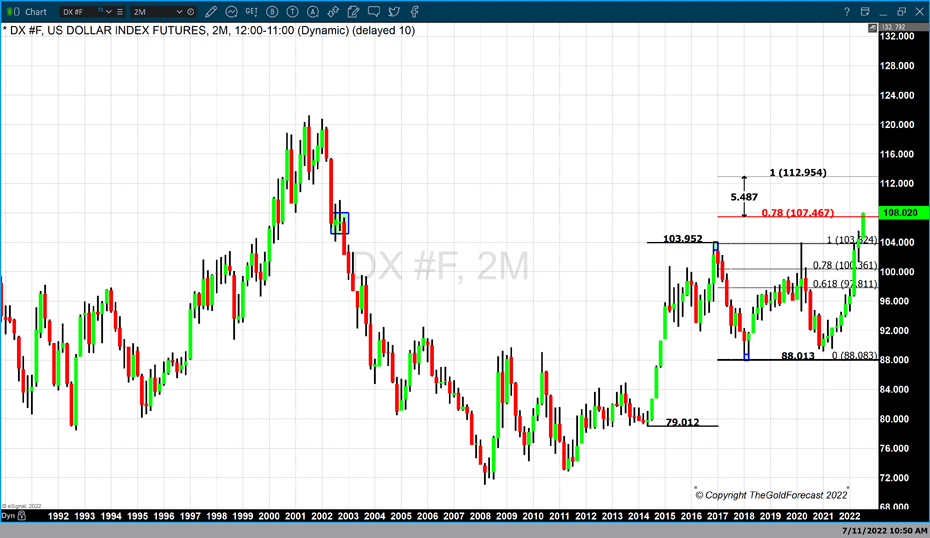 As of 4:45 PM EDT, the dollar has gained 1.11% or a total of 1.184 points, and is fixed at 108.005. Our studies indicate that there is no major technical resistance until the dollar index reaches 113. This assessment was created by using a Fibonacci extension from the lows of 79.012 in May 2014 up to the high of 103.952 during the first quarter of 2017.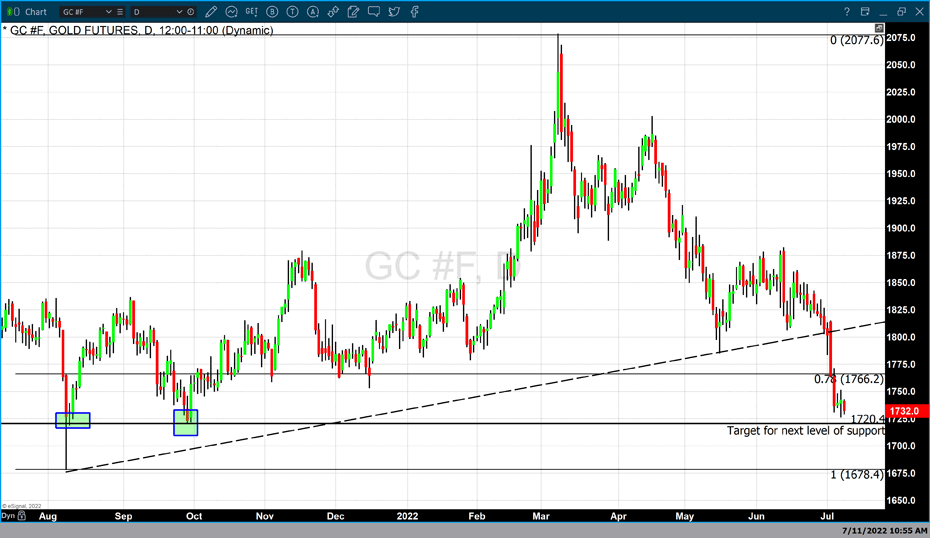 The widely anticipated 75 basis points rate hike by the Federal Reserve has continued to pressure gold pricing lower. The most active August 2022 futures contract is currently fixed at $1731.90 after factoring in today's decline of $10.40. Based on our technical studies the first level of potential support comes in at $1720 with major support at $1680.

By Gary Wagner
Contributing to kitco.com
Time to buy Gold and Silver on the dips
Tim Moseley