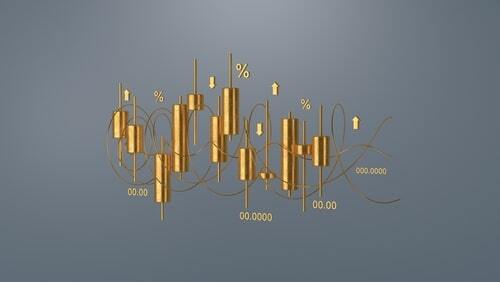 Gold will benefit from weaker USD, rising investment flows in 2024 – ANZ Research
Even after briefly falling below $1900 an ounce amid surging Treasury yields and a six-month high in the US Dollar Index, gold has remained resilient, which bodes well for the precious metal's price trajectory as demand improves, according to analysts at ANZ Research.
"USD strength is likely to wane in 2024," they wrote in a recent report. "While we think appreciation in the USD will sustain to year-end, firmer expectations of rate cuts and slowing economic growth momentum will see the USD resuming its downward trajectory next year. This will be a tailwind for gold."
The analysts said they also expect investment flows to improve. "Gold's investment appeal will increase with increasing macroeconomic uncertainty and growing expectations of monetary easing into 2024," they said. "Sustained higher interest rates could increase stress on corporate debt, which would have negative implications for economic growth."
ANZ pointed out that so far in 2023, "investors have liquidated 130t of strategic investments (ETF gold holdings)," with Europe and North America leading the outflows driven by their tightening monetary policies. They noted that Asia has seen inflows of 9.1t this year, including 6t in August alone. "A weakening CNY and lower consumer confidence is driving fund flows in gold," they said. "Weaker JPY also supported ETF flows for the region."
The analysts said that retail investment is also picking up. "US gold coin sales rose to 85,500oz in August, according to a World Gold Council (WGC) report," they wrote. "Chinese retail investments are gaining momentum too, amid weakening CNY and volatile equity markets."
Looking at futures and options, the ANZ analysts said that net-long positions are at six-month lows, but this could actually be a positive for prices going forward. "A lean speculative position leaves limited room for a material sell-off," they noted.
They also expect to see the recent trend of gold purchases by central banks to continue. "Geopolitical tension is driving a structural shift in central bank purchases," they said. "We expect demand to be buoyant at 750t for 2023 but not to match the record 1,080t of 2022."
Demand for physical gold is expected to improve as well in the fourth quarter of the year, "while weak currency and a fall in consumer confidence in China should boost retail investment," they said. "China's gold spot premium rose to a high of USD60/oz in August before normalising to USD37/oz. While the rise had more to do with a supply squeeze caused by the government's import restrictions, strong physical buying should keep the premium high into the fourth quarter. We expect imports to pick up from next month."
They also noted the strength in India's imports in Q2, and again in July, even though gold prices were high. "The government has stepped in to curb a rise in imports of gold jewellery from Indonesia caused by the fact that under the India-ASEAN free trade agreement (FTA) dealers were importing gold jewellery without paying import duty to avoid the 15% duty on refined gold," they said, which they believe means importers will return to using plain gold. "Restocking of gold ahead of festive season could also see imports rising in the coming months."
ANZ did strike a note of caution about India's demand prospects, however. "A weak INR could keep domestic prices higher, which could hurt retail demand," they said. "Disappointing monsoon rainfall so far this year and food inflation are other drags, undermining consumer demand for gold in the fourth quarter of the year."
By
Ernest Hoffman
For Kitco News
Tim Moseley