Gold recovers from lows even with Fed Governor Waller's hawkish warning
Federal Reserve Governor Christopher Waller told a conference in Sydney, Australia today, "We're not softening…Quit paying attention to the pace and start paying attention to where the endpoint is going to be. Until we get inflation down, that endpoint is still a way out there."
Gold traded to a low of $1762 at approximately 8:13 PM EST. This morning's decline was the result of both dollar strength and a warning by Christopher Waller that the Federal Reserve's monetary policy was not wavering from its strong commitment to continue to use rate hikes to fight against persistent inflation. On Sunday speaking at a conference sponsored by UBS Waller said that although the central bank is looking at the possibility of a slower pace of raising interest rates, this consideration should not be interpreted as a softening in its fight for price stability.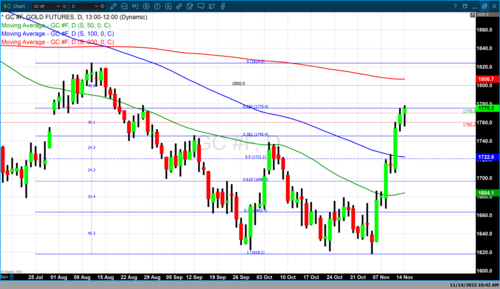 As of 3:33 PM, EST gold futures basis most active December 2022 contract is trading up $6.60 or 0.37% and fixed at $1776. This is just a few dollars off today's high of $1778.40. Today's gains in gold futures are occurring concurrently with dollar strength which has made today's moderate gains even more impressive. Today the dollar index has gained +0.42% and is currently fixed at 106.605. After trading to a low of 106.20 on Friday the dollar has had a fractional recovery from those lows.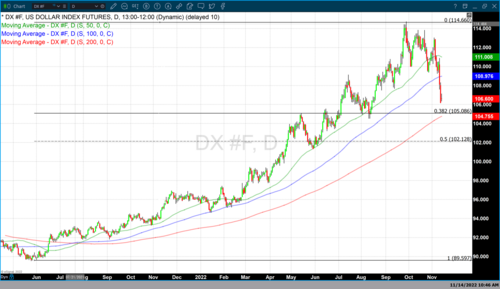 The table below is a month-by-month table of CPI from October 2021 to October 2022 issued by the US Bureau of Labor Statistics. Last week's CPI report revealed that inflation had a fractional decline moving from 8.2% in September to 7.7% year-over-year in October. Inflation has been elevated for an extended time considering that one year ago (Oct. 2021) headline inflation was over 6% and now in 2022 the CPI hasn't declined but rather is higher than last Halloween when it felt like it might still be a trick. Now the public is aware that they were treated instead to a constantly climbing cost of living.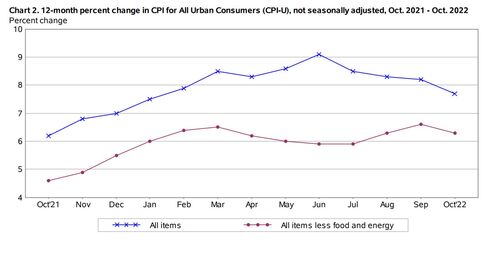 Although the aggressive rate hikes of the Federal Reserve have certainly had an impact on lowering inflation, a 1.4% decline taking the CPI to 7.7% is still at a level not seen before 2021 for over four decades. CPI at 7.7% is far away from the inflation target set by the Federal Reserve. The core CPI which excludes food and energy costs is just above 6% which is still triple the Fed's inflation target of 2%.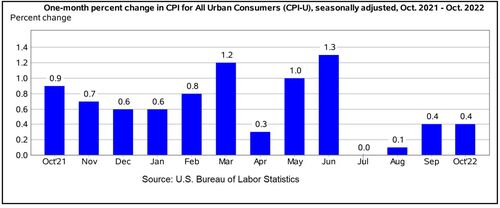 This fact has been highly supportive of gold pricing and according to San Francisco Federal Reserve President Mary Daly, "It's far from a victory". Lorie Logan the Federal Reserve's president of the Dallas central bank said that last week's report is, "a welcome relief", but will not alleviate the need for more rate increases possibly at a slower pace.
Currently, the probability of a 50-basis point rate hike at the December FOMC meeting continues to increase now at a probability of 85.4% which is a 5.2% increase from the probability recorded by the CME's FedWatch tool on Friday.
By Gary Wagner
Contributing to kitco.com
Tim Moseley