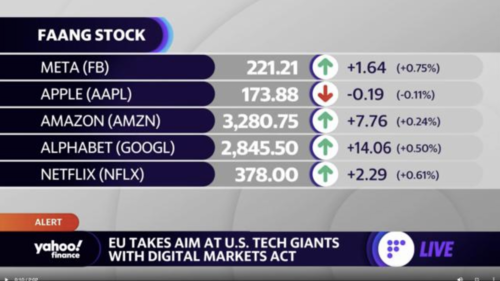 New EU laws set to revolutionize tech markets
by

Robert O'Sullivan, Cora Quigley, Jackie Dana,
contributors
, Namecheap Blog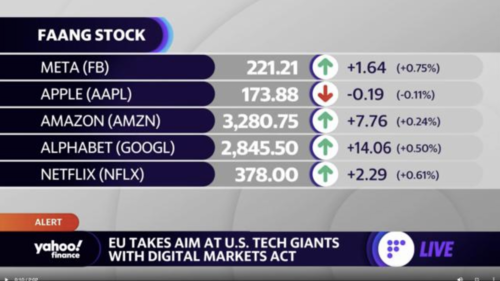 EU takes aim at U.S. tech giants with Digital Markets Act
Much has been said in recent years about the dominance of 'big tech' firms and the way this unfairly impacts digital markets. But this could all be about to change, with new EU regulations that are aiming at reducing the power of online 'gatekeeper' platforms, such as Facebook and Google. The BBC reported that EU officials agreed on the wording of the Digital Markets Act (DMA) last week and, provided further approvals are met, the new legislation could be in effect later this year.
So which tech giants will be hit and how will it affect them? Any company with a market capitalization that exceeds €75 billion ($82 billion) and also has more than 45 million users would be impacted. This includes the likes of Microsoft, Amazon, Apple, Meta (formerly Facebook), Alphabet (Google's parent company), and Booking.com.
The regulations concern interoperability (the extent to which different companies or software applications cooperate), and there will be limits to the use of personal data for the purposes of advertising. The European Commission will also have new powers to place a ban on large mergers.
Changes to interoperability mean that different messaging services, such as Whatsapp and Telegram, will be forced to allow messages from users of different platforms.

Another change is that large companies that offer online markets will no longer be able to provide a single option, according to Wired. This means Apple will need to provide alternatives to its App Store for Apple devices, while Android devices will not be limited to Google Play store. When it comes to billing, this is good news for companies like Spotify, which will be able to avoid commission fees of up to 30%.
The new law heralds a shift in government approaches in dealing with large tech companies. Many U.S. politicians support breaking up big tech, including Senator Elizabeth Warren, who recently introduced legislation that would limit the powers of big tech companies. But France's Digital Affairs Minister Cédric O, who has been working to draft the DMA, goes with "don't break them up, break them open". This suggests that the new regulation will usher in a period of increased sharing and competitiveness.
The DMA has not been well received by large tech firms like Apple, which told Fortune that it will "create unnecessary security vulnerabilities for our users." And Google said it would "reduce innovation and the choice available to Europeans."
As with the General Data Protection Regulation (GDPR), which came into effect in 2018, Europe looks to be leading the world in the regulation of large tech companies. Similar to the GDPR, the Digital Markets Act will impose hefty penalties (up to 20% of global revenues) when the regulations are not met. For such large companies, this could be equal to billions of euros.
The DMA will also be similar to the GDPR in that its impact will reach further than its EU jurisdiction, and many large companies will be forced to rethink their approaches. The law is intended to bring more fairness and innovation to Europe and the rest of the world, so the upcoming months will show us just how markets and users will take to the restrictions on large companies.

---
New Opportunities Are Emerging For Citizens of The World.
Freedom and democracy may appear to be struggling to stay alive in America, but there may be a knock-out punch ready to be released. The evolution of the blockchain-enabled metaverse is going to enable the 'Citizens of the World' to gain their own Freedom by democratizing power and creating a new world with new rules, new players, and new opportunities. For 99.99% of us, the metaverse will improve our real-world lives through the democratization of power and opportunity.
Along with the major long-term trend of society towards decentralization and smaller-scale organizations, there are new opportunities developing to help 'Preparers' in the cryptocurrency sector. Businesses are beginning to issue their own Crypto Coins that can be traded on Cryptocoin Exchanges.
Markethive.com for example will be releasing its HiveCoin (HIV) in the coming weeks. It has tremendous upside potential that is outlined in a Video by Founder Tom Prendergast, "Entrepreneur Advantage…".
Not only that, if you go to their website and register as a FREE Member, you will be given 500 HiveCoins for "FREE" along with access to several Earning Opportunities and online tools to increase your HiveCoin balance.
Be sure to check it out today – Markethive.com

Tim Moseley