Gold holding fast against U.S. dollar, bond yields
It may be a little premature to be talking about a breakout in gold; however, according to several market analysts, the precious metal is ending the week on a solid note.
Although it's ending Friday in relatively neutral territory, analysts see a small victory in what the market didn't do: break down to new lows. Let's start with the U.S. dollar, which rose to a 20-year high against a basket of global currencies.
The greenback saw major breakouts against the Japanese yen and Chinese yuan; at the same time, the pound fell to a 35-year low against the U.S. dollar and the euro continues to trade below parity with the greenback, falling to a fresh 20-year low.
Currencies around the world are falling to the juggernaut that has become the U.S. dollar, all global currencies except gold. The precious metal has managed to hold fast support at $1,700 an ounce.
Gold also as managed to withstand rising bond yields. U.S. 10-year yields pushed to 3.5% this week, its highest level in two months. Heading into the weekend, markets see a 90% chance the U.S. central bank will raise interest rates by 75 basis points.
Market expectations solidified after Federal Reserve Chair Jerome Powell said the central bank will maintain its aggressive monetary policy stance "until the job is done."
Gold prices fell to session lows following Powell's hawkish comments, but ultimately support held.
Some analysts have said that gold has been able to withstand the rising bond yields and the U.S. dollar's momentum as investors are once again starting to see it as an important safe-haven asset as well as an inflation hedge.
In dismal headlines this week, Michael Gayed, portfolio manager and Publisher of the Lead-Lag Report, told Kitco News that the U.S. could be facing a sovereign debt crisis as Treasury yields continue to rise.
It's not just in the U.S. European Central Bank President Christine Lagarde raised the specter of recession after the ECB raised interest rates by a historic 75 basis points.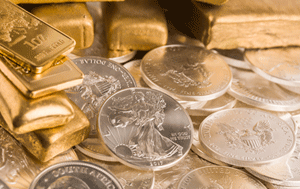 Perth Mint outpaces U.S. Mint in gold sales last Month
During the press conference, she said that a recession wasn't the ECB's base case scenario, but as part of its bearish scenario, they see the eurozone economy contracting by 0.9% in 2023.
Although some investors are starting to see value in gold, there is still a long way to go to undo the damage done this summer. Bears are still in control of the market as they liquidate their bullish gold bets.
There is still a long road before gold shines bright again, but at least it is holding fast for now.
Have a great weekend
By Neils Christensen
For Kitco News
Time to buy Gold and Silver on the dips
Tim Moseley